Your hardware and software choices can have an enormous impact on your productivity.
I'm not a tech wizard by any means, but I've picked up a few tricks along the way. I've paid oodles of money for software that was a total lemon, and I've downloaded free apps from the internet that are worth my weight in gold.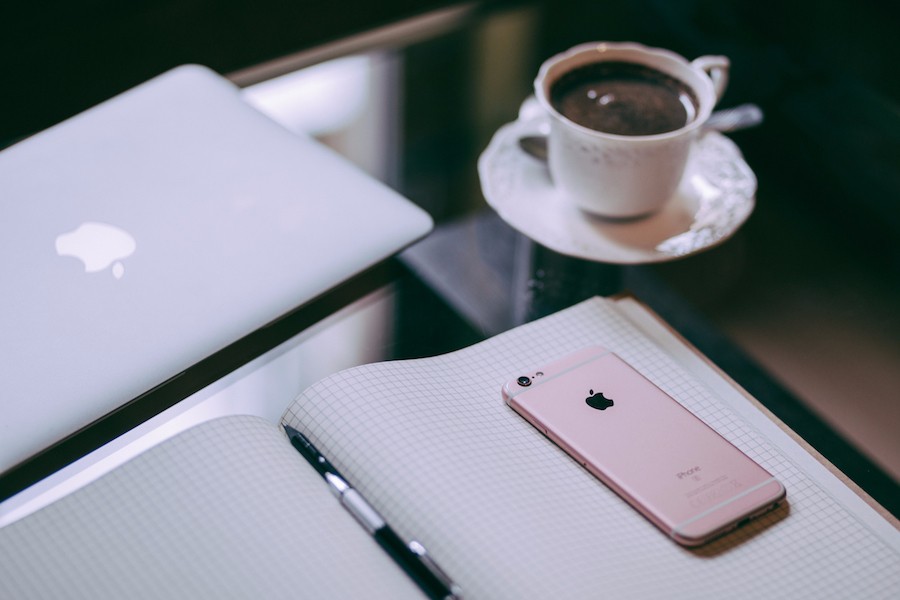 Hardware
Asking people what kind of computer they use is the equivalent of those old Coke versus Pepsi commercials. Both sides have a thousand arguments both for and against a Mac and a PC. You probably already know which side of the divide you lie on, but if you don't, I'm throwing in my two cents worth.
FYI, I'm not a paid by any of these companies. I'm speaking from personal and professional experience.
Laptops
My MacBook Pro
I live and breathe Apple. I work on a MacBook Pro (Retina, 15-inch, Mid 2015) Laptop with a 2.2 GHz Intel Core i7 and 16 GB memory. I also use several external hard drives and thumb drives to supplement, but take into consideration that I'm cranking out large files in five or six formats for the magazine every month.
Google Chromebook
The Google Chromebook is a terrific laptop for the writer on a budget. Made by HP, it has an Intel Celeron 2955U processor with Intel HD Graphics (1.4 GHz, 2 MB cache, 2 cores), 4GB SDRAM DDR3L 1600MHz (onboard), and runs on Chrome OS (my browser of choice).
I like to carry my work with me. I'm a single mom of two, and I'm constantly on the go. A desktop wouldn't be a feasible option for me, but it might be for you, especially if you like to lock yourself away in an office while you work. Desktops are generally cheaper and easier to expand.
Desktops
Apple iMac
Apple iMac has an impressive array of desktops. The biggest decision (other than budget) is asking yourself how much memory and processing speed you need for everyday tasks. I do a lot of Photoshop and video editing so I'm currently eyeballing the Apple iMac MF885LL 27-Inch Desktop with a 3.3 GHz Quad-core processor, 1 TB Hard Drive, and 8GB DDR3L.
Can you hear my heart beating a little faster thinking about that beautiful machine?
Dell Desktop
Now, I haven't had a Dell desktop in years, but if I went out today and bought one, this is the one I would buy: the Dell 23.8 Inch Touchscreen FHD. It runs on Windows 10, has a 2.3 GHz Processor, 16 GB SDRAM, and 1TB Hard Drive.
Even more portable-the "purse" and "pocket" sized writing tools.
Apple iPhone 6
I can fit my iPad into most of my handbags (no judgment) and I've dictated more than one story outline into my iPhone 6.
Samsung Android
I tried out a Samsung Android when my iPhone bit the dust a few months ago. Some people swear by them, but an Android is a lot easier to hack (don't ask how I know this…I won't tell you.) and I found it more unwieldy to type on. The upside to an Android is the easy implementation of Google Apps including Google docs and Google drive straight from your phone.
Apple iPad
An iPad is an excellent secret weapon for a writer. With the right apps, you can turn an iPad into a fully functioning laptop. Add a stylus ($6) and a keyboard and you've got a fairly sophisticated setup. Keyboard price points range from the $150 range with all the bells and whistles to a budget-friendly $15.
The newest Apple iPad is a real workhorse. It's basically a tiny laptop. 9.7-inch Retina display, 10 hours of battery life, and over a million apps to choose from.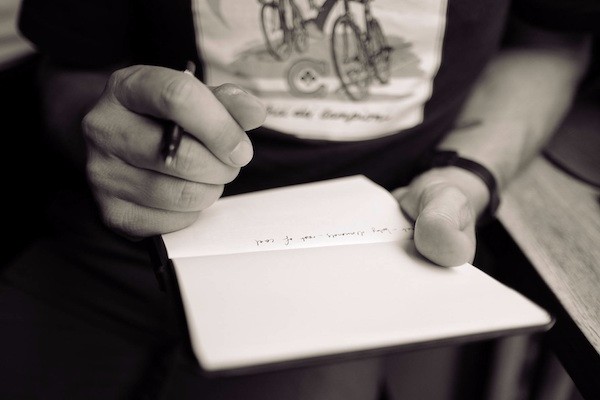 The secret to finding the right hardware is examining your lifestyle.
Where do you write? What do you write? What are your processing and memory needs? Most importantly, what's your budget? Don't be afraid to get creative and make things work.
And hey, there's always the back of that grocery list you find in your coat pocket.
If you don't know what to look for, software choices can be daunting–especially for a new writer.
Word Processors
Microsoft Word
The default setting you either love or hate (Coke or Pepsi again) is Microsoft Word.
It's reasonably inexpensive and you probably learned how to use it somewhere/somehow/osmosis. You crank out .doc or .docx files like a beastmaster. The problem? Not all submission systems will accept .docx files. And Word can be unwieldy, especially once your story turns into a novella turns into a full-fledged novel and you need an organizational system.
Pages
Mac's equivalent is Pages. I've confessed to being a Mac-addict so you can guess I use Pages on a semi-regular basis. It's the default when I download a document from my email or another third party source. Like Word, Pages loses its usefulness once your document gets much longer than 50+ pages. But I do use it for all my critiquing. "Track Changes" is simple and easy to use. I find the comments and inline edits readable and easy for even authors unfamiliar with my editing style to understand.
Google Docs
Google Docs is my new go-to if I'm not in the mood for Pages. The added benefit of Google docs is the online storage (Google Drive) without all those pesky iCloud notifications telling me my storage is almost full and could they please have more of my money. Google Docs also has a decent variety of templates in both their documents and spreadsheet sections. It's quite handy to organize in the spreadsheets, save all your chapters in Google docs, and then invite a critiquer or beta-reader to share editing privileges on a document. One stop shopping at its finest.
Scrivener
Now, when I'm actually writing-writing, as in novel or story writing instead of blogging, I always use Scrivener. Scrivener is designed with a novelist's needs at heart. Organization and story structure are the driving forces throughout its design. Nested files make it easy to keep scenes within their respective chapters or you can use the handy-dandy corkboard layout for a more visual approach. I find Scrivener to have the most options in respect to manuscript formatting. Coming from my publishing point-of-view, I'm going to stress how important it is to have your manuscript properly formatted. Scrivener gives you quite a few file options as well including .doc, PDF, rtf, ptf, epubs, and print ready versions. The downside to Scrivener is that it can be tricky to learn all the ins and outs, especially for a beginner. It takes a few tutorials to really get the hang of it, but once you do, your life is so much easier. Images and photos are also a challenge for Scrivener. Yes, you can make epubs, but don't expect great achievements beyond the basics.
Scrivener 2
Scrivener 2 is now available. I haven't had a chance to try it, but if you have, I'd love to hear your feedback in the comments section. This version includes an outlining tool, a comment/editing option like "track changes", custom icons, the ability to sync between devices, and some other bells and whistles that look interesting but perhaps not essential.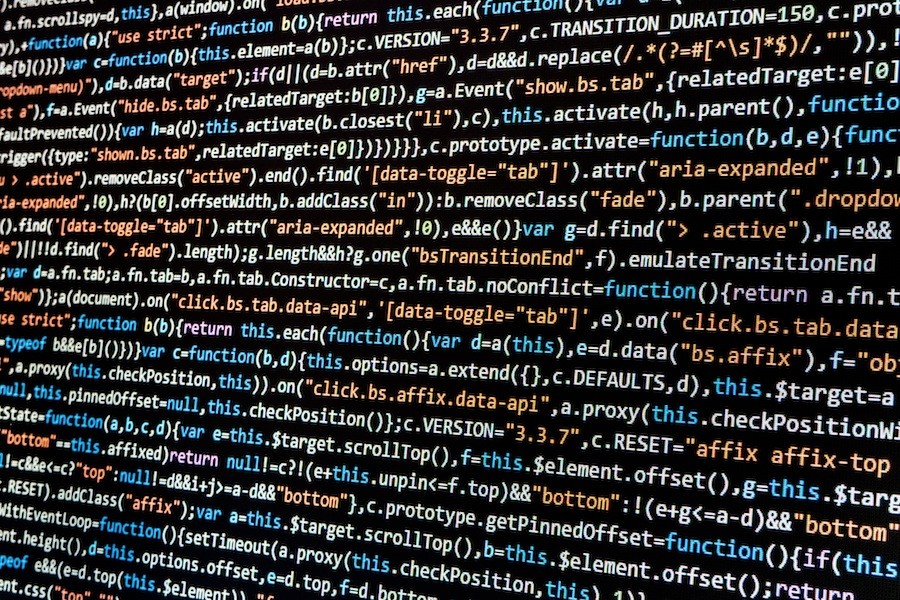 That Other Stuff
Please don't even get me started on random, archaic, or coding-based processors. Turning in a document created in TextFile is a publisher's nightmare. The block prose and lack of formatting can shred a retina.
Turning in a document created in TextFile is a publisher's nightmare. The block prose and lack of formatting can shred a retina.
Yes. People do it.
No. This is not a dare.
Don't be one of them.
Writing Tools
Scapple
Scapple is the brainchild of the same folks who brought us Scrivener. Think of Scapple as a glorified way to take digital notes. It's a freeform text editor that allows you to connect free associations the same way you would in a brainstorming session. You can double-click to add notes, color code, add shapes and other visual cues, but basically, there's not much on Scapple that you can't do with a good old-fashioned white board. I purchased Scapple a couple years ago, and I can honestly say I used it twice.
Grammarly
Grammarly. My new best friend. Unless you have an MFA in English, I highly recommend Grammarly. The free edition contains a healthy dose of corrections plus browser extensions for Chrome, Safari, and Firefox. This handy little app corrects your grammar not only in your manuscripts but also on Facebook, Twitter, LinkedIn, and Tumblr. When you make a mistake, Grammarly highlights your mistake, offers a correction plus explanation, and gives the option to click for an immediate correction. The premium option, which I bought and have never regretted, checks for over 250 types of grammatical errors, provides vocabulary enhancement suggestions, detects plagiarism, and more. It also includes Grammarly for Microsoft® Office, which carries the features across the web and quite a few of my processing softwares including Pages.
Dropbox
Dropbox is an online file sharing system. It's pretty common these days so I'm going to assume you've heard of it. If you haven't, drop me a note in the comment section and I'll flesh this section out more. 
Webpage Options (Kinda-sorta related to what we're talking about)
Squarespace
Squarespace is the hosting platform of my personal webpage. I started this one quite a few years ago, before I became tech savvy enough to navigate my own WordPress site. It's easy to use with a drag and drop interface, built in analytics, e-commerce adaptable, and basically a handy-dandy place to start building your author page. It can be a bit complicated and unwieldy, but for a beginner, it's not a bad place to start. If I was starting a page now, I'd probably host my own site to have more flexibility, but hey, learning curves happen.
WordPress
WordPress….oh how I both love and hate WordPress. And let's not even get into the difference between WordPress.org and WordPress.com. That's an entirely different lecture. If you want that information, drop me a note in the comment section and I'll add it another day.
Web Design
Clockpunk Studios
Clockpunk Studios. Basically, if you have the cash and you want a top notch author page (and I mean TOP NOTCH), Clockpunk is where you go. They designed the current Flash Fiction Online and NASTY sites. Jeremy Tolbert is a wizard. I kid you not. He also runs the Lightspeed and Uncanny sites. Yeah. This is for those of you who are SERIOUS.
That's pretty much everything I use on a regular basis. I'll update this list as we go.